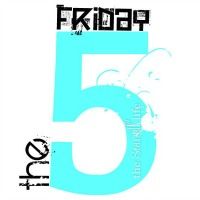 Linking up with Joy at
the Sowell life
again for some Friday Five fun. This week's Friday Five is brought to you courtesy of Roxy!
1. "Mommy, when is Baby Brenna going back in Stacey's belly?" I can't figure out whether she was upset that she hadn't met her yet or already jealous of the attention Brenna was getting.

2. "I pooped outside like the animals. Animals poop outside." I questioned her as to why she had pooped her big girl panties at school yesterday. They were on the playground when it happened and I guess she felt the need to be one with nature.

3. "Mommy, I'm gonna show you a picture of me dressed like Jake. Okay.... Be patient, Mommy, I'm almost there. Be very patient!" Even at three, she knows that Mommy doesn't have any patience.

4. "We have to buy Brenna some tee-tiny pirate boots and tee-tiny Jake panties...and a wittle Jake shirt. Then I can wear my big pirate boots and big Jake shirt." Heaven help her, she wants to make sure that Brenna has all her favorite things. And tee-tiny? I have no idea where she's learned that at.

5. "You're Rapunzel's real mommy. I'm Rapunzel." I love that I get to be a good character again. We've been through so many lately. I've gotten to be Cinderella, Granny (from Looney Tunes), Dora's Mom, the Wicked Witch (from Snow White), Pumpernickle (no idea), Red (from Super Why), and now I get to be Rapuzel's real mommy. I'm so glad...that fake mommy kind of scares me!

As you can tell, Baby Brenna made her arrival this Tuesday. She is healthy and weighed in at 7 pounds, 7 ounces and was 21 inches long. We can't wait to spoil her rotten!