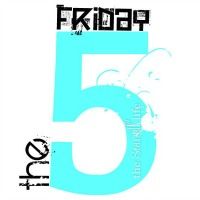 Sporting our blue & white at the game
I'm thankful that it is finally Friday again. This week has been a long and busy one, but maybe I'll get to relax this weekend.
I'm linking up with Joy at the Sowell life again today for her Friday Five. Pop over and link up your list!
1. Our Kentucky Wildcats won over LSU last Saturday and I got to see it in person. My beautiful cousin, Ashley, invited me to go with her to the game and it was a truly fantastic time. We enjoyed the game, the pep band, and the ice cream sold just down the hall from our seats. Our Cats pulled it out even though the second half was a little hairy.
2. We filed those pesky 2012 Income Tax Returns on Tuesday. What a relief to finally be done with that...and even better...we didn't have to pay this year. That made the week a little easier to bear.
3. The 2013 March for Babies officially kicked off for us last night. I went to the kickoff/awards ceremony to "officially" begin the 2013 March. I was overcome by emotion as always. The Ambassador family for Frankfort have a story that is truly amazing. I think everyone in the room was in tears as they shared their story last night.
Even better, Team Roxy was the top fundraising team for our local walk last year. Right behind us was Team M&M, who we've paired up with for this year. I also received a medal as thanks for serving as Family Team Committee Chair.
4. This little cutie makes every day start off with a bang. I had to take a photo of her in her jeans and her "popstar" boots. She's convinced that these boots are just like the ones from The Princess & the Popstar movie.
5. Wow! This was a shock when I returned to work from lunch on Monday. This isn't the building I work in, but just two houses down. I was looking for a parking spot when I saw the truck actually smashed into the building. Apparently this guy ran the red light and was hit by another truck which spun him around and into the building. No one was hurt, but the secretary sitting in front of that window was understandably shaken up.
I usually park in front of or behind the car on the left-hand side of the photo. I am so thankful that I wasn't parked there on Monday!
Happy Friday, y'all! Hope you have a fantastic weekend.