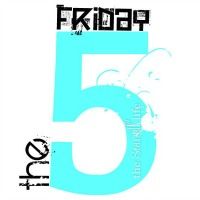 I'm linking up today for the first time with Joy at
the Sowell life
for her Friday Five linkup.
1) We started meal planning this week. I finally decided to jump on the band wagon that I've read so much about and start meal planning. I would consider this week a success even though it was a bit unusual. I planned meals for Monday and Wednesday with leftovers for Thursday. (We normally have dinner with my MIL on Tuesdays and tonight I'm supposed to have a girls' night.) We'll see how next week goes before we make an official declaration.
2) Our March for Babies team name changed. Team Roxy merged with Team M&M for the 2013 March so we had to come up with a new name. The Mighty Miracles will make their team debut this year. Watch out for a ridiculously cute t-shirt design complete with three little supergirls!
3) We're still waiting on Baby Brenna's arrival. I had hoped that my niece would make her (early) arrival on my birthday...and she didn't. My brother and sister-in-law came to visit last night and I think everyone is ready to meet this darling bundle of joy. I know its selfish, but I can't help but hope she will come in the evening so I get to be there!
4) Roxy managed to find herself in a 10-minute time out this week for a lot of trouble caused in less than five minutes. Russ bought her a TV for her room last weekend so her new favorite thing is to watch a movie on HER TV. Wednesday night she was playing in her room and watching a DVD. After about five minutes, I went to check on her. I was shocked to find that she had shed both her pants and her pull-up. She had smeared poo on her pillow and bed sheets. While Russ was cleaning that mess up, he discovered that she had also tried to put a Thomas DVD in. The DVD was split in half. And to make matters worse, it was a borrowed DVD from the public library. Ugh! Thankfully, by the end of the time out she knew what she did was wrong and to ask for help with the big stuff.
5) I celebrated my 30th birthday on Wednesday. So far, I'm loving it. Its been terrific. I started celebrating last weekend and I haven't stopped yet! It was definitely a day to remind me that I have the best friends and family that a girl could ask for...as if I could forget.
What are you waiting for? Go link up your own list with Joy!