Since Klout thinks that I am an expert on shoes (I used to be. Mostly toddler shoes now!), I decided to post yet another blog about shoes. More specifically, new shoes for Princess Roxy.
Tuesday night I decided I was finally going to buy Roxy the cute t-strap mary jane Keds that I've been eyeing forever. They would be a perfect addition to her wardrobe because what wouldn't they pair nicely with?
NayNay said she had thought about going to pick up a pair of canvas shoes for Roxy because they would be the perfect outside play shoes with no socks required.
So, we left Roxy at home and decided to go shoe shopping by ourselves. (Note: Roxy was at home not feeling well so we didn't take her. Not that we wouldn't have loved to have my little shoe freak with us.)
I know we spent 45 minutes looking at the Keds and marveling at how the soles of the shoes were two completely different shades of beige. And how the wide shoes were longer than the mediums. We finally decided on a pair of 6.5 mediums and sat back to take in the rest of the choices for the munchkin.
We found a cute pair of pink Nike sandals that felt light as air. It was hard to supress the urge to buy them since we couldn't find one pair of canvas shoes in the store and these would be perfect for Roxy to play in. So we didn't supress it, we got those, too!
Roxy has quickly outgrown her sandals we bought at the beginning of the spring/summer season so I stopped by the clearance aisle to see what they had in her size. There was a super cute brown pair, but they were one size too small. And then I found these...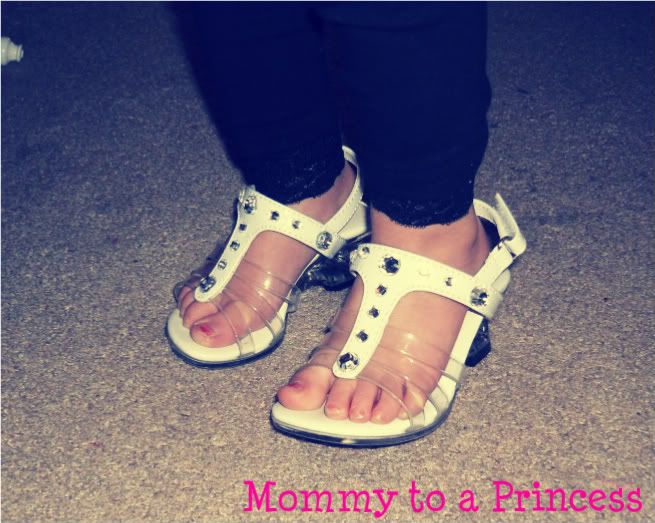 How could I not get them? The munchkin loves them and I do, too! They are a bit big and will probably only be play shoes, but she toddles around very well in them.
NayNay and Mommy couldn't pass up buying some shoes for themselves either, so we also got 2 pairs each. Mommy's favorite?
The most comfortable/cute pair of Rocket Dogs I think I've ever bought!
Roxy and I really do love our shoes.
And as always, no matter how bad she's feeling, she always makes time to make a face for the camera!